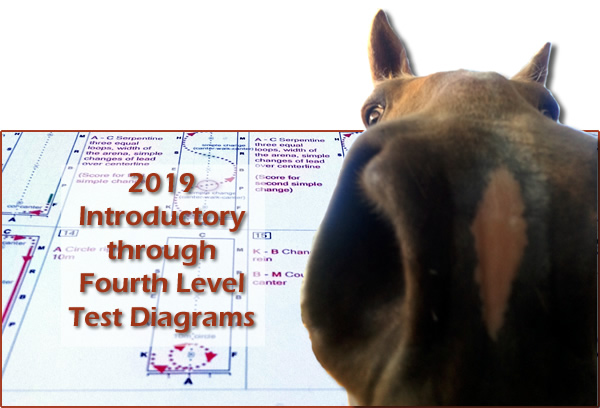 Diagrams and Call Sheets for 2019 Dressage Tests (pdf)
Please feel free to use these diagrams for personal use. Not for commercial use. They may not be posted on a website. They may be shared with friends, students and trainers. Accuracy is not guaranteed.
If you are a visual learner it may be hard to memorize your dressage test from only a call sheet. I find that by diagramming the test side-by-side with the directive, it helps me memorize the test better. I hope it helps you too.
Visit the USDF site for the official call sheets. Review the official tests so you have a clear understanding of what the judges are looking for at your level (the Purpose at the top of each test) as well as the important directive information for each movement.
Suggested ways to use these diagrams and other hints for memorizing your tests.
Print sheets and place them back-to-back into a top-loading sheet protector.
Print front back onto matte photo paper and laminate, laminate, laminate.
Download the pdfs and save them to your tablet.
Search for videos online of people riding your test and watch the pattern (don't judge the riding :-) ). Videos will be hard to find this early with the new 2019 tests but as the show season progresses you may have more luck.
Ask a friend to video you and your horse riding your test (don't be hard on yourself) and focus on the pattern and your timing so you can be prepared for each movement.
Be your own horse! Find an open space such as your barn aisle, a conference room, an empty tennis court, or a patch of sand on the beach. Mark out a mini dressage arena with a 1:3 dimension ratio. Walk, trot and canter your test in your mini arena. Ignore the looks you get from the people around you!
You've got this! You are that rider!
(Please feel free to contact me if you spot any mistakes and I will correct them asap.)
Update December 22, 2018: For returning users, please be aware I have found and corrected several typos in the 2019 test diagrams and call sheets.
Please re-download/re-save your test(s) to be sure you have the latest, corrected version(s). Thanks!
-Alison May
Ride Safe! -Alison (alison@mayidesign.com)
Reproduced with permission of USDF
©2018 United States Dressage Federation (USDF) and United States Equestrian Federation (USEF)
All rights reserved.
Reproduction without permission is prohibited by law.
Neither USDF nor USEF is responsible for any errors or omissions in the publication or for the use of its copyrighted material in an unauthorized manner.